05 Dec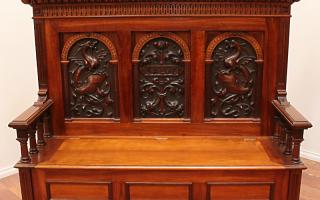 EJ Ainger
Robert Prenzel carvings to attract auction purists
A 1903 Robert Prenzel blackwood settle and three panels is a major highlight of E.J. Ainger's forthcoming special two-day sale from 11am Saturday December 5 and Sunday December 6 at 433 Bridge Road, Richmond.
Each panel is finely carved in the Gothic Renassance style with Gryphons and the centre panel depicts foliage with the relief carved inscription 'Salve'.
Another Prenzel panel features a lorikeet on an Australian native gum tree branch and was purchased by the Black family from his workshop and installed as part of a homestead fireplace at Tarwin Meadows.
Read Full Review