25 Jun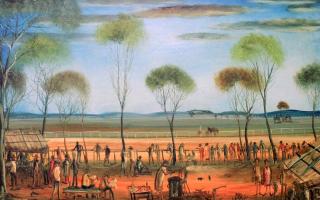 Glenelg Auctions
Pro Hart exhibition painting to bring auction crowds
Five paintings by Australian artist Pro Hart – including one purchased directly from "The Australian Bush Series" exhibition in October 1975 in Hong Kong – are a key component of Glenelg Auctions two-day auction from 11am Saturday June 25 and Sunday June 26 at 109 Learmonth Street, Portland.
The exhibition painting, entitled The Mallee Races, is an oil on board signed by the artist and comes complete with certificate of authenticity.
Other Pro Hart paintings in the sale include The Rabbit Trappers and Street Scene, Double Bay NSW.
Read Full Review