12 Dec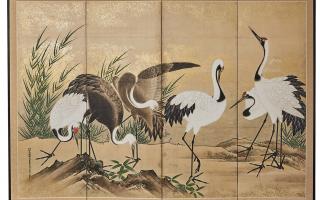 Leonard Joel
A range of Asian art auction items to suit all comers
Asian art lovers will be impressed at the range of collectable items on display at Leonard Joel's Asian Art Edit auction from 6.30pm Wednesday December 12 at 333 Malvern Road, South Yarra.
One of the more colourful items is a circa 1705 Edo Period Japanese four panel screen in the Kano Tomonobu school style and painted by its esteemed artist Fujiwara Toshinobu at 70 years old (lot 13).
Kano Tomonobu was the sixth generation descendant of the master Kano Eitoku who established the Kano tradition of crane paintings.
Read Full Review