19 May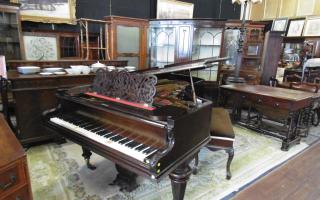 EJ Ainger
Three grand pianos lead to a musical auction extraordinaire
Three grand pianos should bring musicians running to E.J. Ainger's latest sale from 9.30am Tuesday May 19 at 433 Bridge Road, Richmond.
The mahogany cased grand pianos are manufactured by Schiedmayer and Sohne, and the baby grand by Allison.
The auction contains a good French cherrywood library bookcase and an English porcelain cabinet, along with Victorian mahogany and walnut furniture.
There also is a big range of Edwardian and 1920s furniture and a large number of oil and watercolour paintings and graphics.
Read Full Review