04 Feb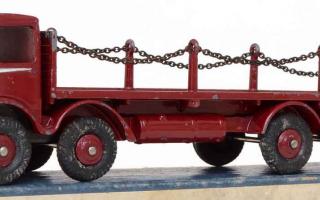 Leonard Joel
Amazing collectables for Joel's first monthly toy auction
Leonard Joel's first monthly collectable toy and other memorabilia auction for 2016 will be held from 12pm Thursday February 4 at 333 Malvern Road, South Yarra.
While estimates for different lots vary, two Dinky 505 Foden flat trucks with chains each carry $1000-$1500 tags.
There are two Dinky 36G taxis and a range of military and construction vehicles.
Of interest will be several film posters (including one of Teresa Desqueyroux 1962) and a mounted Don Bradman display (including bat) featuring his prolific record from 1927-1949.
Read Full Review