16 Sep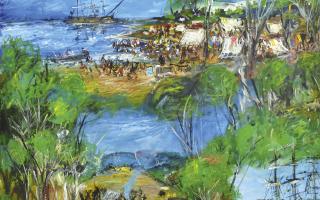 Leonard Joel
Pro Hart mural a fine art auction feature
A Pro Hart mural featuring the history of South Australia is the major feature of Leonard Joel's fine art auction from 6.30pm Monday at 333 Malvern Road, South Yarra.
Entitled The South Australian Mural and measuring six by 1.5 metres, the oil on canvas comprises four panels and was painted in 1993.
The work is accompanied by a stand with an illustrated legend, was commissioned by the Myer Centre, Adelaide and is the largest Pro Hart artwork to be permanently exhibited in South Australia.
Read Full Review