15 Sep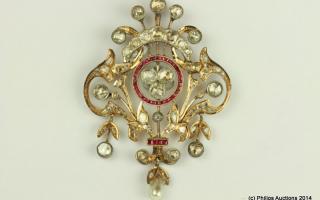 Philips Auctions
Antique auction jewellery a gift from tobacco mogul
An Ethiopian tobacco mogul from the early 1900s gave his goddaughter a pair of 1840s Georgian matching diamond earrings, pendant and ring as a wedding present in 1915 (lots 65, 174, 175).
The bride (the current vendor's grandmother) kept the set all her life and now it has ended up as a major highlight in Philips Auctions latest jewellery sale from 6pm Monday September 15 at 47 Glenferrie Road, Malvern.
At the time, the tobacco mogul possessed the sole rights to export his product internationally and was enormously wealthy.
Read Full Review