28 Oct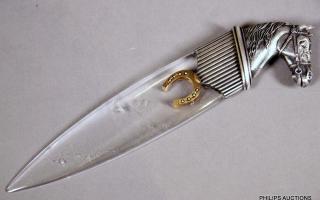 Philips Auctions
Auction offers a Faberge letter opener for those who like the finer things of life
It might sound extremely indulgent to the average auction goer, but perhaps some among those who attend these events harbour a secret desire to open their mail with a silver Faberge letter opener.
If so, it will be worth attending Philips Auctions forthcoming Fine & Decorative Arts sale – from noon Sunday October 28 at 47 Glenferrie Road, Malvern – where such an item is being offered for a modest estimate of $20,000-$30,000.
The Russian .875 silver and rock crystal letter opener (lot 21) was made in 1894 in Moscow and bears the K. Faberge mark in Cyrillic.
Read Full Review