16 Feb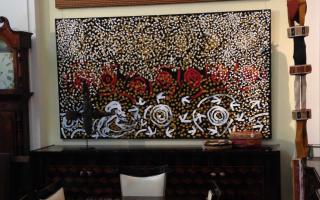 Philips Auctions
Travelling collectors auction Aboriginal art gems
It is rare these days to find collectors of Aboriginal art who actually travel to the communities to meet the artists and purchase the works first hand.
However, Michael and Janet Strachan did exactly that when about 20 years ago they first visited the Kimberley region of Western Australia and fell in love with the landscape and its art.
Their first contact was with the Warmun community – the home of what were to become iconic Aboriginal artists like Rover Thomas, Jack Britten and Queenie McKenzie - and famous for its ochre paintings.
Read Full Review