28 Oct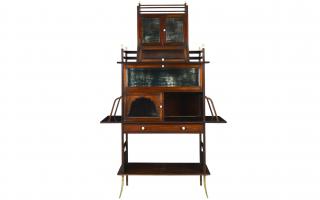 Leski Auctions
Godwin art cabinet an auction marvel
An 1880s Edward William Godwin (1833-1886) English Aesthetic Movement art cabinet (lot 198) is the major highlight of Leski Auctions forthcoming Decorative Arts, Watches & Collectables sale from 11am Sunday October 28 at 727-729 High Street, Armadale.
Godwin was a progressive English architect-designer renowned initially for his "Ruskinian Gothic-style" creations of mid-Victorian Britain including The Guild Hall in Northampton.
He was among the first European designers to include the arts of Japan, which in 1853 had opened its doors to the Western world, in his works.
Read Full Review