10 Oct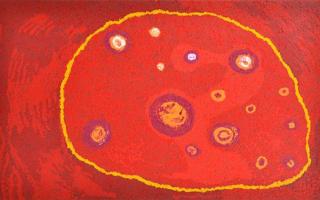 Leonard Joel
Linus Onus among Aboriginal auction highlights
A Linus Onus painting of cross-hatched frogs and a large Tommy Watson painting will be among highlights of a range of Aboriginal art and artefacts to be auctioned from 6.30pm Thursday by Leonard Joel at 333 Malvern Road, South Yarra.
The sale features a collection of far north Queensland artefacts gifted to the late Dr Tim O'Leary while he was a Flying Doctor in the 1950s and 1960s.
Of particular note is the bull-roarer with a female torso carved into it.
Read Full Review