16 Dec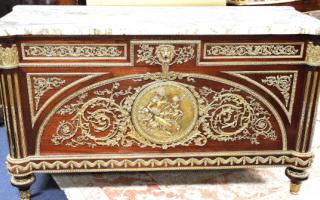 Christian McCann Auctions
Famous French cabinetmakers are auction drawcards
A Francoise Linke (1855-1946) commode and a bureau-plat by Paul Sormani are highlights of Christian McCann Auctions final sale for 2018 from noon Sunday December 16 at 426 Burnley Street, Richmond.
A leading late 19th and early 20th century Parisian cabinetmaker, Linke was born in the small Czech Republic village of Pankraz and in 1875 arrived in Paris.
Six years later, he was supplying for more established furniture makers and, in a time of wealth and confidence in France, set his sights on exhibiting his creations at the 1900 Paris World Fair.
Read Full Review